Dragonfly 10' 0"
"The 13.6 is a big board! Can you build a 10 footer?"

That's what we heard from those who didn't need the floatation capabilities of the 13.6. Our design team set out to make it happen with a 10' board bearing all the cool features of the heavier board but without the weight. She'll still float 300 pounds.

Expect similar construction as the 13.6 with the same 32-inch beam. The bow allows water entry for a lighter person using the same "glide factor" as the big boards.

Note the "yacht" finish non-skid along with a molded-in hand grab on this model. Included is a forward and rear leash plug to secure the board when traveling.

It's all the fun of the 13.6, only lighter.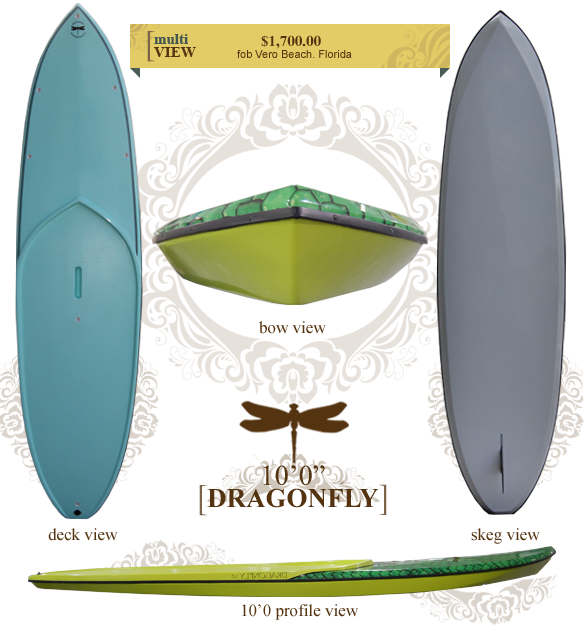 ---

TECHNICAL SPECIFICATIONS
Polypropylene and vinyl-ester laminate.
32-inch beam.
Floats 300 pounds.
Board weighs 35 pounds.
Beaded foam core.
Hard vinyl rub rail.

PDH (paddle dry hull) configuration.
Unique water shedding deck design.
Yacht finish non skid.
Front and rear leash plugs.
Centrally located hand grab.
Removable channel for fin.

Hull-to-deck seam screwed and glued.
Vented plug for storage and shipping.
Rear Locking ring.
Front and rear carrying handles.
Drain plug.